Julie I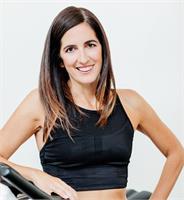 Julie Insogna-Jarrett is living her dream teaching cycling at Prime Cycle in Hoboken. A passionate rider for many years, she turned her cycling dreams into a reality when she started instructing at Prime Cycle and shortly after became a partner in the business. Her upbeat and energetic personality is what makes her cycling class a hit. Take a class in her popular "Party on a Bike" ride and you will find yourself pushing yourself to the limits while also having fun (and possibly a little crying during her infamous "towel" routine). In her spare time, she also owns one of New York's most successful TV and film companies.
Julie I instructs the following:
60 minutes of energy fueled by of the most fun, most driving, and most motivating music! We ride the beat, dance on a bike and work hard to exceed our goals. Get rid of stress & burn calories - the perfect way to start your day!




I'm all about the music- we let the music push us to work harder, get stronger and feel challenged. Rhythmic kick ass choreography fueled by the hottest playlist makes our workout feel more like fun than work.