Alexa D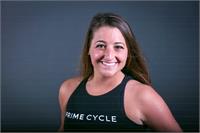 Alexa is a former 9-year National Team gymnast who loves to dance and have fun; but what Jersey girl doesn't? She attended college in Indiana where she studied Kinesiology and Exercise Science, however after graduation, Jersey pulled her back home. She now divides her time between coaching gymnastics and instructing at Prime. Her passion for fitness guarantees a strenuous workout while her high-spirited personality makes for a fun ride! She enjoys sharing her love of music with her classes, and will guide you to "catch the beat" while you pedal the miles and calories away. Get ready to experience her go-getter attitude, which will make you feel more motived than ever!
Alexa D instructs the following:
I'm all about the music- we let the music push us to work harder, get stronger and feel challenged. Rhythmic kick ass choreography fueled by the hottest playlist makes our workout feel more like fun than work.




Kickstart your metabolism bright and early! Wake Up and start your day with a motivational, fun and challenging class that your body will thank you for for the rest of the day. Sweat It Out during this full body workout consisting of rhythmic moves and resistance training with an abdominal focus that is all choreographed to upbeat music from various genres! Rise up and Ride to the Rhythm!




A traditional 45-min cycling ride following the Prime Method. This class is FREE for first time riders. Inquire to add this free ride credit to your account. Any questions contact

info@primecycle.com.




A 60 min Prime Method cycling class designed to make you sweat, boost your endorphins and increase your energy for the weekend! Throughout the class you will jump, sprint, climb and follow choreography that targets your core. #SaturdaysAreForCycling so book your bike today!




Music is a motivator! Alexa uses her knowledge of cycling to create a challenging, rhythmic ride to the beat of the music. Her use of multiple music genres connects with various riders each class. With her focus on form and posture, you are sure to get a hard working, safe ride!




Latoya uses her motivation to push you to the max during the Powerhouse Ride. She focuses on "power" meaning heavy climbs and interval training sprints while all riding to the beat of the music. Her playlist incorporates multiple genres of music that get the energy in the room to flow! With her dance background, you'll be moving and working for the full 45 minutes!