Alexa D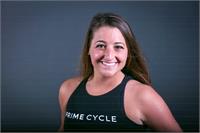 Alexa is a former 9-year National Team gymnast who loves to dance and have fun; but what Jersey girl doesn't? She attended college at Indiana University, where she studied Kinesiology and Exercise Science, however after graduation, Jersey pulled her back home. Her passion for fitness guarantees a strenuous workout while her high-spirited personality makes for a fun ride! She enjoys sharing her love of music with her classes, and will guide you to "catch the beat" while you pedal the miles and calories away. Get ready to experience her go-getter attitude, which will make you feel more motived than ever! While not at Prime, Alexa is an elementary school teacher for physical education and health. Follow Alexa on Instagram and Twitter.
Alexa D instructs the following:
Kickstart your metabolism bright and early! Wake Up and start your day with a motivational, fun and challenging class that your body will thank you for for the rest of the day. Sweat It Out during this full body workout consisting of rhythmic moves and resistance training with an abdominal focus that is all choreographed to upbeat music from various genres! Rise up and Ride to the Rhythm!