Abbey L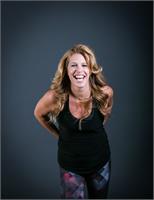 Abbey LeVine is ecstatic to be teaching as part of the Prime Cycle family! In the early 90s, at the start of the indoor cycling revolution, Abbey was a fitness instructor at Bodies In Motion in LA, where she motivated her riders to achieve and maintain strength. Fitness has always been part of her every day life with a strong focus on mind and body wellness. She has run numerous marathons and competed nationally in rowing. Once a DJ and radio host in Miami, she became an expert in researching relevant, fresh music sets. Every one of her class playlists are carefully curated to inspire an intense, yet entertaining, workout experience. Take a ride and see for yourself! When Abbey is not instructing, she devotes her creativity and enthusiasm to her non-profit organization spreadthesparkle.org and to her podcast LeVineIntervention.nyc.
Abbey L instructs the following:
Whole body experience that empowers you to BE THE BOSS. Abbey guides you through a focused ride, expanding your total well-being so you can #getstrong and #staystrong. 45 minutes on the bike leaving you centered, light and re-charged.