Abbey L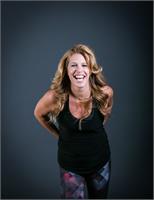 Known in many circles as the Sparkle Queen, Abbey is a natural motivator. Her passion for and commitment to your health guides you to greater mental and physical strength... and keeps you strong! A lifelong cycling enthusiast, Abbey has been instructing all levels of riders in NYC and LA since the birth of the spinning revolution. Abbey combines her thorough technical knowledge with a playful curiosity for relevant music sets. She's got you! So come rock out on a bike with Abbey and plug into the beat, your breath and a bright feeling in your whole body!
Abbey L instructs the following:
Whole body experience that empowers you to BE THE BOSS. Abbey guides you through a focused ride, expanding your total well-being so you can #getstrong and #staystrong. 45 minutes on the bike leaving you centered, light and re-charged.




Music is a motivator! Alexa uses her knowledge of cycling to create a challenging, rhythmic ride to the beat of the music. Her use of multiple music genres connects with various riders each class. With her focus on form and posture, you are sure to get a hard working, safe ride!




Latoya uses her motivation to push you to the max during the Powerhouse Ride. She focuses on "power" meaning heavy climbs and interval training sprints while all riding to the beat of the music. Her playlist incorporates multiple genres of music that get the energy in the room to flow! With her dance background, you'll be moving and working for the full 45 minutes!