Caitlin F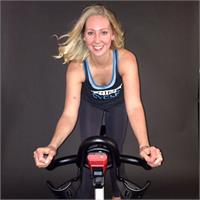 Caitlin hails from Blairstown, NJ as a former Division 1 and Professional Basketball player. Now a highly sought after personal trainer & pilates instructor, Caitlin loves to challenge her riders to channel their inner athlete and have fun pushing past their limits. You can expect a fast-paced rhythm ride with a whole lot of sweating. She is a firm believer that the attitude you have on the bike is the attitude you take off... so show her fierce, ride strong and be unstoppable!
Caitlin F instructs the following:
Well-paced, seamless, easy-to-follow musical journey. Allowing the soundtrack to inspire a strong and motivating ride.