Caitlin F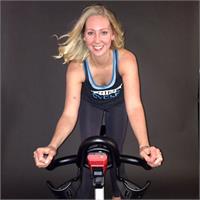 Caitlin hails from Blairstown, NJ as a former Division 1 and Professional Basketball player. Now a highly sought after personal trainer & pilates instructor, Caitlin loves to challenge her riders to channel their inner athlete and have fun pushing past their limits. You can expect a fast-paced rhythm ride with a whole lot of sweating. She is a firm believer that the attitude you have on the bike is the attitude you take off... so show her fierce, ride strong and be unstoppable!
Caitlin F instructs the following:
Getting a good workout shouldn't be something you're forced to do, it's what you want to do. We work hard as a group, but play hard as a group. Erica's playlists are mixed in one ride where you hear: Top 40, 80s & 90s, and a little old school hip hop!




Finish off your weekend with a "Sunday Funday" dance party! 45 minutes of rhythmic moves choreographed to upbeat music for a kick-your-butt calorie burn! Sweat out your weekend and start the week off right with Alexa!




60 minutes of energy fueled by of the most fun, most driving, and most motivating music! We ride the beat, dance on a bike and work hard to exceed our goals. Get rid of stress & burn calories - the perfect way to start your day!




Total body workout focusing on sculpting the upper body, as well as, the lower body. Get ready for push-ups, sprints, jump intervals and climbs to work toward that "ripped" physique with Stacy S!




Whole body experience that empowers you to BE THE BOSS. Abbey guides you through a focused ride, expanding your total well-being so you can #getstrong and #staystrong. 45 minutes on the bike leaving you centered, light and re-charged.




I'm all about the music- we let the music push us to work harder, get stronger and feel challenged. Rhythmic kick ass choreography fueled by the hottest playlist makes our workout feel more like fun than work.




45 min. Prime Method cycling class designed around rhythm riding.