Caitlin F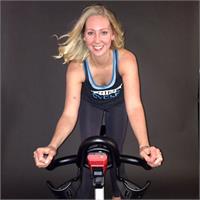 Caitlin hails from Blairstown, NJ as a former Division 1 and Professional Basketball player. Now a highly sought after personal trainer & pilates instructor, Caitlin loves to challenge her riders to channel their inner athlete and have fun pushing past their limits. You can expect a fast-paced rhythm ride with a whole lot of sweating. She is a firm believer that the attitude you have on the bike is the attitude you take off... so show her fierce, ride strong and be unstoppable!
Caitlin F instructs the following:
Getting a good workout shouldn't be something you're forced to do, it's what you want to do. We work hard as a group, but play hard as a group. Erica's playlists are mixed in one ride where you hear: Top 40, 80s & 90s, and a little old school hip hop!




A 45 min Prime Method Cycling class designed around the beat of the music with rhythmic choreography.