Alex K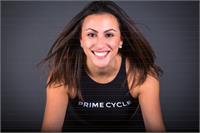 Somewhere in the middle of a press and a tap back, Alexandra realized teaching at PRIME CYCLE was exactly the passion she'd been looking for. She works in the fashion industry full-time in NYC and finishes her day by motivating our riders. She will make you break a sweat with her enthusiastic and sassy attitude. Alexandra believes that positive energy is contagious; come to her class to share the energy!
Alex K instructs the following:
45 minutes of upbeat music, stress relieving breakaways, and positive reinforcement! Nothing makes the end of a long day better than cycling away your worries and getting into a positive power state of mind!




This early morning class will wake you up and get you ready to take on the day! Morning workouts are proven to provide grater energy, better focus, and burn more calories. You will walk out of class feeling like a warrior!