Samer A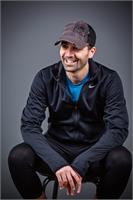 Samer spent most of his life in Texas (growing up Austin, and then living in Dallas) before moving to the area to try something new (and mostly to escape the Texas heat!). He has co-founded and joined several software startups, always pursuing his passion for creating apps and software that help people be more empowered in their day. Once he discovered indoor cycling, he was immediately hooked— first becoming a daily rider, and then becoming an instructor to give back to the amazing community that helped him be more fit, feel more confident, and pursue his goals. His classes are all about pushing yourself and training your mind and body not to back down from challenges! (All with amazing, loud music of course).
Samer A instructs the following:






60 minutes of energy fueled by of the most fun, most driving, and most motivating music! We ride the beat, dance on a bike and work hard to exceed our goals. Get rid of stress & burn calories - the perfect way to start your day!




I'm all about the music- we let the music push us to work harder, get stronger and feel challenged. Rhythmic kick ass choreography fueled by the hottest playlist makes our workout feel more like fun than work.