Yesenia D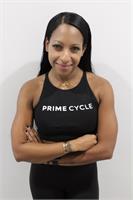 Although Yesenia's beat-based, heart-pumping rides are all about pushing past your comfort zone, the most important thing, above all else, is having fun! While she's had a passion for health and wellness for as long as she can remember, Yesenia recently transitioned out of her 9-to-5 job to work in the fitness world full-time. When she's not teaching spin or finding new tunes to tap, press and "swoop" to on the bike, you'll likely find her taking a HIIT class, dancing, or sipping some rose or tequila. (Work hard, play hard, right?) Be sure to find this boss babe's class on the schedule, and in the meantime, follow her on Instagram.
Yesenia D instructs the following:
Prime Power is all about pushing your power to not only feeling stronger, but become stronger. You'll ride to the newest and hottest playlists that will have you lost in the beats making it feel like you've just powered through a party and had the time of your life doing it! Prime Power gives you a full body workout targeting fat burn and strength building, taking you through various choreography with Jane's energy to give you the motivation and focus to keep you crushing those goals!




Be pushed to the max, while you pedal to the beat of the music. When that beat drops be prepared to tap that booty back or drop it into that press. Get breathless with all sorts of jumps and sprints. Push against that resistance with hills that will set your thighs and calves on fire. This class will make you work hard so you can play hard and slay!