Dominating Brain Cancer Twice; It's time to RIDE with our loyal and inspiring client Ruth Kavanagh
---
Come "Party On A Bike to Beat Brain Cancer"! On May 1, 2016, our client, Ruth Kavanagh, will be hosting a charity ride in support of the National Brain Tumor Society (NBTS). 100% of the proceeds from the event will go directly to the NBTS to help fund their cutting-edge research to find better treatment options, and ultimately, a cure for brain cancer.
In the last two years, Ruth has beaten brain cancer twice. She is fiercely committed to keep fighting and to raise awareness for brain cancer. Here is Ruth's story, in her own words, and why Prime Cycle has meant so much to her throughout her battle...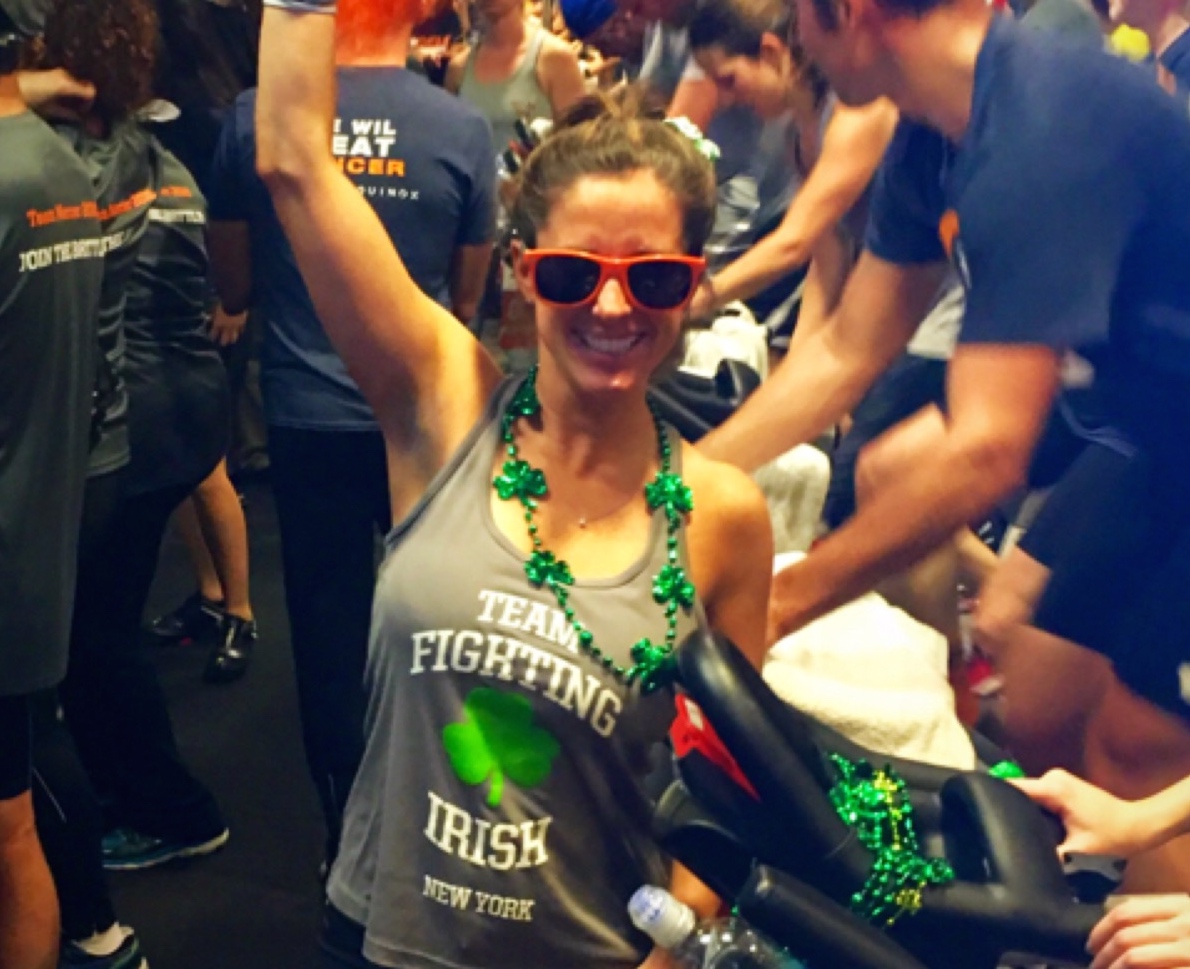 RUTH'S STORY

On Sunday, April 6, 2014, my life changed forever in the matter of a heartbeat.
At the time, I was married less than two years to the love of my life, had a successful career and was surrounded by loving family and friends. Life was pretty much perfect. I was the "girl who had it all." Never in my wildest dreams did I imagine that I would suffer a grand mal seizure that Sunday afternoon caused by a rare and aggressive brain tumor.
I quickly underwent brain surgery to remove the tumor. Through the miracle hands of my amazing neurosurgeon, the surgery was a complete success. I then underwent radiation treatment, and ten months of physical therapy due to neurological issues caused by the tumor.
I continued to get stronger and stronger, ironically feeling healthier than I had in years. However, in early 2015, my MRIs began showing a troubling growth. By June, it was determined that I would have to undergo a 2nd brain surgery. On June 30th, my neurosurgeon performed another flawless surgery.
Following my recurrence, I underwent high-dose radiation treatments, as well as IV infusions, to protect my brain. Recently, on March 31st, I learned that my latest MRI showed "something" abnormal. No one can tell exactly what that "something" is, but I now face the possibility of a second recurrence or radiation necrosis, a serious side effect of my radiation treatment.
Although I've had setbacks in my battle, I continue to fight each and every day. I will never give up!
WHAT PRIME CYCLE HAS DONE FOR ME
About a year ago, I had never stepped foot into a spin studio. I actually first came to Prime to prepare myself for a nationwide spin event, Cycle for Survival, which raises millions of dollars for rare cancer research through Memorial Sloan Kettering Cancer Center. I won't lie – I was scared! I certainly never expected that spinning would become my new addiction, not just making me stronger physically, but stronger mentally and emotionally.
Due to the side effects of my treatment, I have weakness on my left side, particularly my left leg. I got onto that bike simply hoping to lessen that weakness. Wow! Did it do so much more. Once I actually figured out how to get through an entire class (I am not always the most coordinated person!), the transformation was almost immediate. I would lose myself in the music. I would listen to each instructor, motivating me to pedal harder, to push myself beyond my expectations, and of course, to just have fun. Sometimes, I even had tears streaming down my face thinking about all I had gone through and how incredibly lucky I was to be on that bike, at that moment, fighting and surviving.
For me, being on that bike at Prime isn't just about exercising. Sure, I sweat and tone my physical body. More importantly though, it reminds me just how strong of a persona I am and how I will always fight, no matter what. Whatever comes my way, "I got this."
WHY WE NEED YOUR HELP
The facts alone demonstrate just how much we need more funding and research for brain tumors. Today, nearly 700,000 people in the U.S. are living with a primary brain tumor and nearly 70,000 more will be diagnosed each year. Yet, the average survival rate for malignant brain tumor patients is only 34%. Brain tumors are also the leading cause of cancer-related deaths in children under 10. A cure cannot wait!
HOW YOU CAN HELP
Please come out on Sunday, May 1st from 2:00 p.m. to 4:00 p.m. for our charity ride. You can contact Ruth directly at rakavanagh@gmail.com. Please also contact Ruth if you wish to make a donation to NBTS. We are Stronger Than Brain Cancer!