---

What inspires of our instructors? Well,I sat down for some Q&A with one of our talented instructors and fierce Mother of three, Stacy! Lets get inspired riders..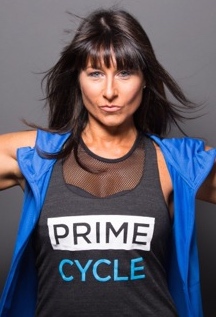 Fitness has always been a big part of Stacy's life. She trains everyday by breaking it down by body part.
However, not being a fan of the never ending treadmill run, she decided to take her first spin class. Well, that is all it took and Stacy was hooked. After spinning for sometime, and being very passionate about it, she decided to get certified to teach classes. Stacy wanted to incorporate training and cardio into one ride, pushing her to pursue that passion.
At home Stacy's children inspire her to be the best that she can be; they think that their mom is invincible. At Prime Cycle, Daniela inspires her to not be afraid to try new things and be creative with her ride so her personality shines through. Dani's words motivate Stacy to work hard to become better each and every day. Her riders (YOU) influence her to be the best she can be. Your kind words and compliments after class or emails are really what keeps an instructor inspired to bring more to each class.
Stacy is all about anti-aging. Don't get her wrong, she does believe in aging gracefully. However, she also believes that healthy living and exercise are two major components to keep you looking and feeling young.
Fun Facts about Stacy:
Her favorite color: Navy blue.
Her favorite movie: Rocky 4, his training part is the best!
Her favorite food: Anything Italian...
Stacy would like all her riders to know that she is inspired by your energy and hard work. As long as you are persistent you will achieve your goals but it is by being consistent that they will keep them! Ride On!
{Check Stacy Out on Tuesday nights 6:30, Wednesday nights 7:30 & Saturday 11am, substitutes Sundays at 8:30}