Hey Riders, it may not feel like it, but Memorial Day Weekend is finally here! Tis the season of BBQ's, Pier 13, Jersey Shore, outdoor dining and refreshing cocktails. After a long week its nice to kick back with a nice refreshing beverage while enjoying the summer night. Your favorite drinks can contain syrups, sugary mixers turning your beverage into a diet no-no. With the weekend around the corner, we found three delicious cocktails that are healthy and diet friendly. Enjoy!
---
Skinny Coconut Margarita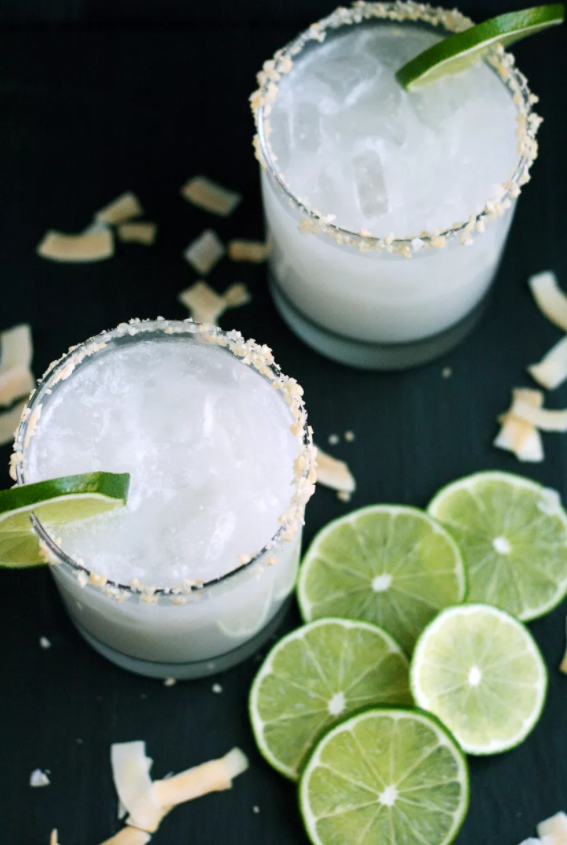 .::Ingredients::.
-3 ounces lite coconut milk (from the can)
-3 ounces tequila blanco
-1 1/2 ounces triple sec
-8 ounces coconut water
-Fresh lime wedge, to serve
In a shaker, combine the coconut milk, tequila blanco, triple sec and coconut water.
Shake until combined.
Pour into cocktail glasses with ice.
Serve with a lime wedge.
Skinny Strawberry Mojito
.::Ingredients::.
-6-8 Mint Leaves
-3 tbsp. Stevia
-1 Lime, sliced
-6 oz Strawberries, sliced
-12 oz club soda
-3 oz light rum
-ice
In a large cocktail shaker, combine mint leaves and Stevia
Squeeze in lime juice from 1/2 of the lime.
Add rum and shake.
Add sliced strawberries and lime slices. Gently stir them in.
Separate between two glasses and add club soda and ice.
Stir lightly and serve.



Skinny Raspberry Moscow Mules
.::Ingredients::.
- 4 shot of skinny Raspberry Pomegranate vodka
- Ginger Beer
- 10 fresh raspberries
- Juice of 1/2 of a lime
- A few mint leaves
- Ice
Muddle the raspberries, mint leaves and the juice from half a lime in the bottom of a copper mug.
Top with vodka, ice and ginger beer
Garnish with a slice of lime, raspberries and an extra mint leave. Enjoy!
Have A Great Memorial Day Weekend Riders & Drink Responsibly!