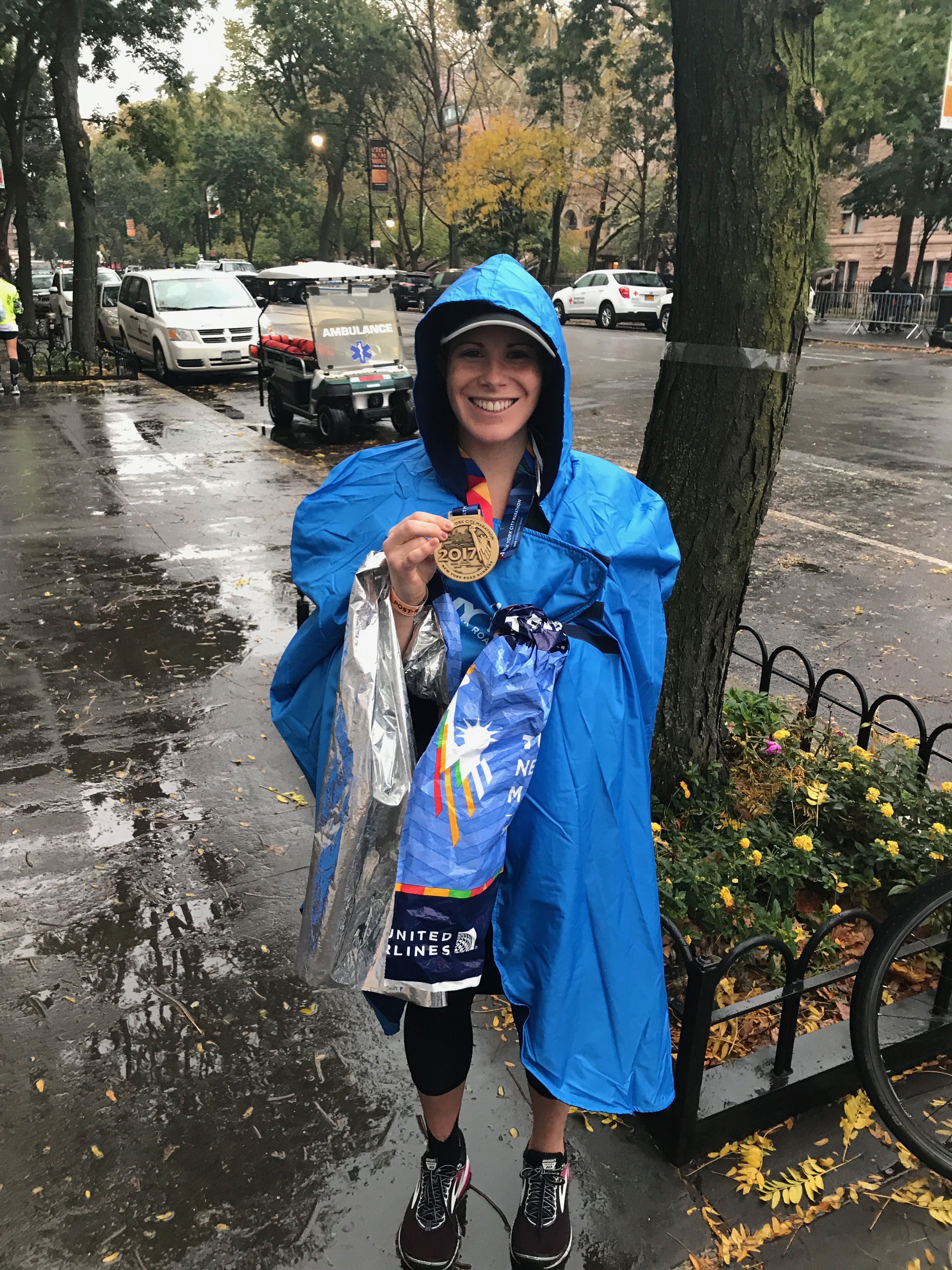 This week, Kelly O, our very own Prime blogger, tells her story about the challenges and successes of completing her first Marathon this past weekend. The mental strength, physical strength and motivation throughout the past year has paid off!


Running the NYC Marathon has always been a dream of mine for many years. Last year I signed up with The American Cancer Society to raise money and run the 2016 NYC Marathon. Unfortunately 2016 just wasn't my year. Three weeks before marathon training, I started to develop major discomfort in my right knee and ended up tearing my meniscus. I remember when my doctor came in to let me know that I will not be able to run the NYC Marathon and I will need surgery, I was extremely bummed. As stubborn as I am, I refused to get surgery and decided to get a 2nd opinion. The second doctor recommended Physical Therapy to see if we can rebuild the meniscus back up. I went twice a week for 6 weeks and diligently worked my tush off every day to rebuild the strength in my knee. After I "graduated" from PT, I continued to work hard every day just so I can never hear those words that I can't do something again. I ran my first 3 miles that December with zero pain, it was the best accomplishment I made that year. I knew the hard work was paying off.

Fast forward a few months and I decided to enter into the 2017 NYC Marathon lottery. Knowing that it's extremely difficult to get in, I figured why not. Well I ended up getting in! I knew that 2017 will be my year and I needed to continue working hard in order to cross that finish line.

I started my 20-week training program in the middle of June, such a great way to start my 28th Birthday! Since my schedule at Prime Cycle requires me to be there to open early in the morning and Close at night (running in the middle of the day in the summer wasn't an option either lol) the only way to get my training done was at 5AM. Some mornings I dreaded what I was about to do with the typical question running through my head, "why did I sign up for this again?" Once I hit the waterfront and saw the NYC skyline, I remembered exactly why I signed up. I decided to start taking pictures of the gorgeous sunrise during my run and send them to my family in our group chat. Little did I know that it started something that continued to motivate me throughout the training. My family is my biggest support system and if they didn't get their picture they let me know!


My training went well up until a couple days before my last final long run, 20 miles. I ended up spraining my toe forcing me not to be able to run. Thank goodness for Prime Cycle and the pool in my building because that was my source of training since running wasn't an option. The consoles at Prime helped tremendously, helping me stay on track to meet the goals I set in the beginning of class. One of the classes I was in the instructor kept saying "Don't give up, remember why you came here." I kept those words with me through the rest of the training and during the marathon.


On race day I woke up ready and excited, I knew that all the hard work I've done in the past 17 months would pay off. My family and friends mapped it out so I was able to see them 3 times during the race, thank goodness for them! By mile 23 my knee was giving out and seeing my family at that same moment kept me going till the end. Well, I did it and completed the TCS 2017 NYC Marathon in 4 hours and 28 minutes! Coming from a torn meniscus to running the NYC marathon in 17 months, I'm proud of myself with this accomplishment. Never give up on yourself. You're stronger than you think you are and you can do more than you think you could ever do.